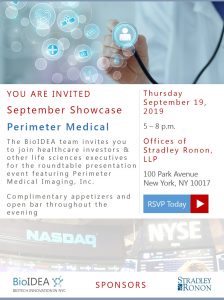 Please kindly RSVP by on Eventbrite, as space is limited to 25 people:
https://bioidea-showcase.eventbrite.com
About Perimeter Medical
Perimeter Medical develops, patents, and commercializes advanced in-procedural medical imaging tools. The OTIS™ platform provides clinicians with real-time, ultra-high resolution, sub-surface image volumes of the margin (1-2 mm below the surface) of an excised tissue specimen. The ability to visualize microscopic tissue structures during the clinical procedure has the potential to result in better long-term outcomes for patients and lower costs to the healthcare system. 
Perimeter is also focused on winning the race to develop an AI search engine via a Machine Learning component to highlight areas of interest to enable rapid evaluation of tissue samples. Perimeter Medical was founded in 2013. Investors, led by Roadmap Capital, have invested over C$20 million in Perimeter Medical that was used for product development, clinical research, and obtaining three FDA clearances. Perimeter has also received C$5 million in non-dilutive funding since 2013, and additionally has just won a $10M grant from The Cancer Preventative Institute of Texas. 
Perimeter is now scheduled to go public in Q4 2019 on the TSX, followed by a 2020 US listing.